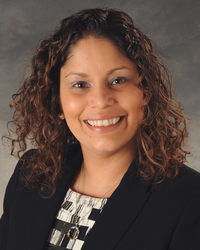 Audeliz Matias
Associate Professor
School for Undergraduate Studies
Academic School:
Science, Mathematics and Technology
Academic Department:
Natural Sciences
Education
B.S. in Geology from University of Puerto Rico-Mayaguez
M.S. in Geology from University of Puerto Rico-Mayaguez
Ph.D. in Geological Sciences from Northwestern University
Subjects of Interest
Environmental Science
Environmental Studies
General Science
Geology
Interdisciplinary Multidisciplinary Studies
Professional Responsibilities / Bio
Dr. Audeliz (Audi) Matias is a mentor, associate professor, and online curriculum coordinator at SUNY Empire State College. She teaches online courses and independent studies in the area of geosciences and environmental sciences. Dr. Matias is involved in emerging technology efforts for teaching and learning and has seven years of experience developing fully online courses. She recently managed a collaborative NSF-funded project, "SUNY/NYAS STEM Mentoring Afterschool Program," which trained graduate students and post-doctoral fellows to mentor and deliver STEM content to underserved middle-school children in afterschool programs across New York State. Dr. Matias has published numerous conference papers, articles, and peer-reviewed book chapters on the subject of emerging technology for teaching and experiential learning. She continuously look for opportunities to integrate teaching and research to benefit students. Additionally, Dr. Matias is actively engaged in local and professional organizations dedicated to mentoring. 
Publications
Matias, A. and A. Aguilar-González (2017). What Do Geology and IT have in Common? The Case of An International Collaboration through Experiential Learning. In Amy Lee and Rhiannon D. Williams (Eds.), Engaging Dissonance: Developing Mindful Global Citizenship in Higher Education. Emerald Publishing Group, Bingley, UK.
Matias, A., K. Woo, and N. Whitley-Grassi (2016). Expanding Access to Science Field-Based Research Techniques for Students at a Distance through OERs. In Patrick Blessinger and T.J. Bliss (Eds.), Open Education: International Perspectives in Higher Education. Open Book Publishers, Cambridge, UK.
Matias, A., Duncan-Poitier, J., Groome, M., Lansing, J., Moore, G., Ortiz, P., Brenton, K., Elphick, G., and Gleason, C. (2016). Mentoring in Informal Afterschool Programs: STEM Graduate Students as Mentors. In Dominguez, N. and Gandert, Y. (Eds.). 9th Annual Mentoring Conference Proceedings: Developmental Networks: The Power of Mentoring and Coaching. Albuquerque, NM: University of New Mexico.
Matias, A. and D.M. Jurdy (2015). Deformed Crater (Tectonized). In Henrik Hargitai and Ákos Kereszturi (Eds.), Encyclopedia of Planetary Landforms, 2015 Edition (ISBN: 978-1-4614-3133-6). Springer, UK.
Matias, A., S.M. Aird, and D. F. Wolf II (2013). Innovative Teaching Methods for Using Multimedia Maps to Engage Students at a Distance. In Laura Wankel & Patrick Blessinger, (Eds.), Improving Student Engagement and Retention through Multimedia Technologies: Including Video Annotation, Multimedia Apps, Videoconferencing, and Transmedia Storytelling (Cutting-edge Technologies in Higher Education Series, Volume 6F). Emerald Pub. Group, Bingley, UK.