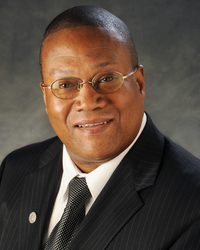 David Fullard
Visiting Associate Professor
School for Undergraduate Studies
Office(s):
Academic School:
Human Services
Academic Department:
Human Services
Education
B.F.A. in Liberal Arts, specialization in photojournalism and studio photography from School of Visual Arts
M.A. in Criminal Justice from John Jay College for Criminal Justice
Ph.D. in Forensic Psychology and Forensic Behavioral Science from Union Institute Graduate School
Subjects of Interest
Community & Human Services
Criminal Justice
Psychology
Public Affairs
Social Science
Professional Responsibilities / Bio
Retired Senior Correctional Captain (Supervisor) with extensive training and experience in Investigative Techniques; Penology; Analysis of Conditions of Confinement in Local, State & Federal Correctional Facil­ities; Forensic/Clinical Psychology; Clinical Criminology/Treatment of the Offender; Criminal Psychology; and Substance Abuse/Chemical Dependency & Mental Health Treatment (assessment, diagnosis, and pre­vention).  Background includes extensive experience in supervision and management of inmate population and both uniformed and civilian correctional staff.
Currently as Assistant Professor with SUNY Empire State College, teach numerous courses in Community and Human Services: Multicultural Issues in Counseling and Psycho­therapy; Social Work: Theory & Practice; Pharmacological Aspects of Substance Abuse; Theoretical Con­cepts of Psychoanalytic & Neo-Analytic Psy­chology; Issues in Criminal Justice Systems; The African-American Exper­ience in the Criminal Justice System; Women & Crime; Issues in Terrorism; Juvenile Delinquency; Issues in Theoretical Criminology and more.
Primary areas of focus for teaching and mentoring have included Criminal Justice, Community & Human Services, Substance/Alcohol Abuse, and the Social and Behavioral Sciences.  Education and practice in the latter field has led to embracing and utilization of a Scholar-Practitioner Model where scholarship and theoretical concepts are connected and used "out in the real world."
Noted for developing and championing innovative outreach and support programs focused on the success of all students but focused particularly on supporting black males to persist through to graduation or cer­tif­icate completion since this group historically has the lowest retention rate. These efforts include serving as faculty advisor for the Black Male Initiative (BMI) at Empire State College, supporting group activities including identification of at-risk students, peer counseling & referrals, outreach & promotion, student & alumni networking, community forums & events, social responsibility & social justice initiatives, technical advice for BMI expansion, and establishing a fully endowed BMI scholarship fund.
As part of this portfolio, activities include establishing a number of evidence-based programs to support student success:  (1) the Fortified/Enriched Classroom that provides in-class support to ensure completion of first term/first year classes, since research has shown that improves retention through to graduation; (2) the Citizen Re-entry program, providing a pipeline for students with prior criminal justice involvement to move in a new direction and complete their higher education; (3) weekend coach­ing/counseling ses­sions, walk-in or by appoint­ment, to support both of these programs as well as other BMI members and ESC students, and (4) outcome research to document the effectiveness of all of these program areas.
Publications
FULLARD, D. A. (November 16, 2017). The Three Questions NYC Must Answer if it is Serious About Closing Rikers. (City Limits, City Views).
GOODMAN, J. D. & Schwirtz, M. (April 12, 2017). DeBlasio Faces Tough Road Replacing Rikers With New Jails. (The New York Times). Citing David Fullard.
FULLARD, D. A. (March 22, 2017). Shackling Inmates Will Only Make Rikers Violence Worse. (City Limits, No BackSpace).
FULLARD, D. A. (January 2017). Teaching the Importance of Developing the Therapeutic Relationship, 5 chapters on education, in Treatment, Education, and Outreach for Mental Health and Addiction – New Directions, Thalia MacMilland and Amanda Sisselman-Borgia, eds. (Springer International Publishing).
KORNBLUM, W.; COON, D. & MITTERER, J.O. (2008). An introduction to the social and behavioral sciences. Edited by David A. Fullard, Ph.D. (OH: Cengage Learning).