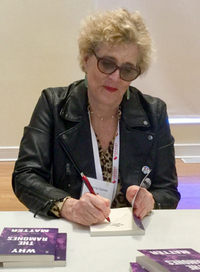 Donna Gaines
Lecturer
School for Undergraduate Studies
Office(s):
Academic School:
Social and Behavioral Sciences
Academic Department:
Social Science and Public Affairs
Education
B.A. in Sociology from Binghamton University, State University of New York
MSW in Social Work from Adelphi University
M.A. in Sociology from Stony Brook University - State University of New York
Ph.D. in Sociology from Stony Brook University - State University of New York
Awards
Levenstein Fellowship in Research, Adelphi University, 1976-1977
Altes Award for Exemplary Community Service, 2017-2018
Professional Responsibilities / Bio
Donna Gaines is a sociologist, journalist and New York State Master Licensed Social Worker. She has written for Rolling Stone, MS, the Village Voice, Spin, Newsday and Salon. Her work has been published in underground fanzines, numerous trade and scholarly collections, professional journals and textbooks. Her photographs, liner notes, lyrics and poetry have been published or shown as well. (www.donnagaines.com). 
An international expert on youth violence and culture, Dr. Gaines has been interviewed extensively in newspapers, for documentaries, on radio and television. She has provided consulting services to attorneys defending young people in death penalty trials, to community leaders, school administrators, clergy, to producers and reporters in the print and broadcast media in the United States, Canada and Europe. A public speaker, lecturer and workshop facilitator, professor Gaines has taught under graduate and graduate sociology at Barnard College of Columbia University and the Graduate Faculty of New School University respectively. She has worked at ESC since 2013, teaching courses in Community and Human Services, music, spirituality and healing, social science and coastal community studies.
Her first book, Teenage Wasteland: Suburbia's Dead End Kids,  was published by Pantheon Books in 1991. Rolling Stone declared Teenage Wasteland "the best book on youth culture." In 1996, the Pacific Journal of Sociology described it as "a classic in sociology." In 2001 Newsday dubbed it a "cult classic." Acclaimed by scholars as "a new way to do sociology" Gaines' second book, A Misfit's Manifesto: The Sociological Memoir of a Rock & Roll Heart was published by Rutgers University Press in 2007. Her third book, Why the Ramones Matter waspublshed by University of Texas Press in Fall, 2018. 
An active and visible member of several spiritual communities, Dr. Gaines is an elected member of the Guild of Scholars of the Episcopal Church of America and a commissioned lay healing minister. A holistic healer with a special commitment to youth, community-building, veterans rights, recovery, self-care and eco-activism, Donna Gaines is a dedicated body surfer and organic gardener.
Publications
Teenage Wasteland: Suburbia's Dead End Kids (University of Chicago, 1997)
A Misfit's Manifesto: The Sociological Journey of a Rock & Roll Heart (Rutgers University Press, 2007)
Why The Ramones Matter ( University of Texas Press, 2018).
Journalist: 1979-present: Numerous publications in Village Voice, Rolling Stone, SPIN. Newsday, and numerous textbooks, scholarly journals, trade and professional collections.