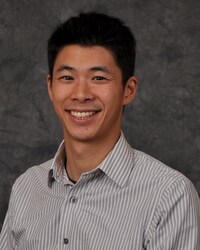 Kevin Woo
Associate Professor
School for Undergraduate Studies
Office(s):
Academic School:
Science, Mathematics and Technology
Academic Department:
Natural Sciences
Education
B.S. in Interdisciplinary Psychology/Biology from Long Island University - Southampton College
M.S. in Ecology and Biodiversity from Victoria University of Wellington
Ph.D. in Animal Behavior from Macquarie University
Subjects of Interest
Animal Behavior
Biology
Conservation
Ecology
Professional Responsibilities / Bio
My interests in scholarship and pedagogy are in the areas of Animal Behavior, Ecology, and Conservation Biology. My main forcus of research examines the social behavior, communication, learning, and cognition in animals, and to date I have used various model species, such as lizards, fish, insects, birds, and cuttlefish. As such, I am interested in a number of broad areas in animal behavior, but often employ the best model to help answer questions. In studying different animal species, I have employed some non-traditional, yet technologically innovative tools such as video playback and the use of computer-generated animations. Currently, I study the behavior of pinnipeds (seals) both in the wild and in the laboratory with the Center for the Study of Pinniped Ecology & Cognition. In particular, I am interested in the population demographics of returning pinniped populations in the urban environment, such as New York City, as bioindicators of ecosystem health. By studying these populations, we may better understanding the dynamics of behavioral interactions between individuals that inhabit these locations, and how they may likley contend with intraspecific, interspecific, and anthropomorphic challenges on a seasonal basis. In the laboratory, we study cognition, learning, and senosry perception in seals by employing psychophysical trials that ask individuals to 'tell' us about their experiences to changes in the environment or perceived stimuli. To date, we have welcomed the opportunity to support undergraduate research students who have worked alongside our projects, and have gone onto successfull academic and professional careers. 
Publications
Woo, K. L., & Biolsi, K. L. (2018). In situ observations of pinnipeds in New York City, 2011-2017. Aquatic Mammals, 44, 244-249.
Woo, K. L., Rieucau, G., & Burke, D. (2017). Computer-animated stimuli to measure motion sensitivity for ecological contexts: Constraints on signal design in the Jacky dragon. Current Zoology, 63, 75-84.
Woo, K. L., & Rieucau, G. (2015). The importance of syntax in a dynamic visual signal: Recognition of Jacky dragon threat displays depends upon sequence. Acta Ethologica, 18, 255-263.
Woo, K. L., & Rieucau, G. (2013). Efficiency of aggressive and submissive visual displays against environmental motion noise in the Jacky dragon (Amphibolurus muricatus). Ethology, Ecology, & Evolution, 25, 82-94.
Woo, K. L., & Rieucau, G. (2012). Aggressive signal design in the Jacky dragon (Amphibolurus muricatus): Display duration affects efficiency. Ethology, 118, 157-168.