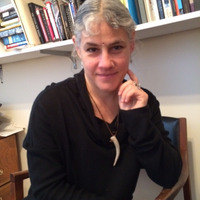 Kim Hewitt
Professor
School for Undergraduate Studies
Office(s):
Academic School:
Arts and Humanities
Academic Department:
Historical Studies
Education
Ph.D. in American Civilization from University of Texas at Austin
Professional Responsibilities / Bio
Dr. Hewitt's core interest is in mind-body connection. Her interests include the history of psychiatry, drug policy, psychedelic studies, postwar culture in the US, consciousness studies and learning theories.
Publications
Dr, Hewitt has published on the significance of body modification in American culture (Mutilating the Body: Identity in Blood and Ink), teaching mental illness, the psychedelic sensorium, the history of psychedelic substances in pharmacology and intersections between feminism and psychedelic studies.