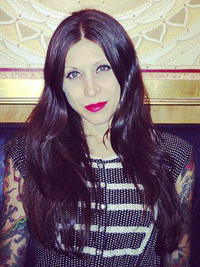 Leah Perry
Associate Professor
School for Undergraduate Studies
Office(s):
Academic School:
Arts and Humanities
Academic Department:
Literature, Communication and Cultural Studies
Education
B.A. in English and World Religions from Manhattanville College
M.A.R. in Religion and the Arts from Yale University
M.A. in Humanities and Social Thought from New York University
Ph.D. in Cultural Studies from George Mason University
Subjects of Interest
American Studies
Cultural Studies
Gender and Sexuality Studies
Lesbian, Gay, Bisexual & Transgender Studies
Race and Ethnic Studies
Professional Responsibilities / Bio
Dr. Perry is Associate Professor of Literature, Communication, and Cultural Studies at SUNY-Empire State College and a two-time Fulbright Fellow. She received her doctorate from George Mason University's Cultural Studies program, a Master of Arts from New York University in Humanities and Social Thought, a second Master of Arts and Religion from Yale Divinity School, and a Bachelor in English from Manhattanville College. Dr. Perry's research encompasses gender and sexuality, race and ethnicity, migration, and media and popular culture. She is the author of The Cultural Politics of U.S. Immigration: Gender, Race, and Media (New York University Press, 2016). Her work can also be seen in journals such as Cultural Studies and Lateral, and in the book collections Cultural Studies and the 'Juridical Turn': Culture, Law, and Legitimacy in the Era of Neoliberal Capitalism (Routledge, 2016) and American Shame: Stigma and the Body Politic (University of Indiana Press, 2016). Her new book project examines the nexus of gender, immigration, Indigeneity and settler colonialism, and media.
Dr. Perry is dedicated to a student-centered intersectional feminist pedagogy that inspires in students a commitment to life-long learning and social justice. Influenced by bell hooks drawing on Paulo Freire, she strives to "teach to transgress." Therefore, interdisciplinarity, variety, flexibility, and accessibility are the key words of her approach to teaching, which spans several academic disciplines including American Studies, Women's, Gender, and Sexuality Studies, Race and Ethnic Studies, Critical Indigenous Studies, Cultural Studies, Media Studies, and Interdisciplinary Studies. Dr. Perry is also the co-founder of and faculty adviser to the college's LGBTQI+ Student Club.