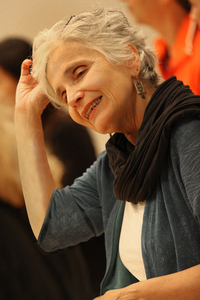 Lucy Winner
Professor
School for Undergraduate Studies
Office(s):
Academic School:
Arts and Humanities
Academic Department:
Arts and Media
Education
B.A. in Theater Arts and Dramatic Literature from Brown University
M.F.A. in Acting from New York University
Subjects of Interest
Dance
Performance
Theater
Professional Responsibilities / Bio
Lucy Winner is Professor and mentor in Arts and Media who has mentored students in performing arts for over thirty-five years. With particular expertise in applied theater, theater and education, and theater, social change and community health, her teaching includes theatre histories in social and political context; improvisation and clowning; and theatre and social change as well as a range of other studies in theatre and performance. She mentors students in individualized projects and internships, helping them to use the vast cultural resources of New York City as a studio and also serves as the faculty mentor and facilitator of our partnerships with the 92Y Dance Education Laboratory and the Yip Harburg Lyric Foundation. In addition to her work at ESC, she is a co-founder and Education Director of the Winter/Summer Institute, an international applied theatre project on issues of community health that began in Lesotho, southern Africa, in 2006 (www.wsimaketheatre.org), and currently works with the Irondale Theatre Ensemble's police/civilian theatre project, "To Protect, To Serve and To Understand" as their training and facilitation consultant, to help build stronger police/community trust, understanding, and justice in urban settings. 
Selected publications:  
Winner, L. "Grappling with distance: Making theatre across continents, cultures, languages and race"  Applied Theatre Research, Volume 7, Number 1, 1 August 2019, pp. 121-129(9). 
Winner, L. and Lissard, K. Making Theater, Making a Difference: Winter/Summer Institute in Theatre for Development. All About Mentoring, Issue 32, Spring, 2007. 
Winner, L. Democratic Acts: Theatre of Public Trials. Theatre Topics, September, 2005. Winner,L. and Lissard, K. What Does Democracy Look Like? Community Arts Network, http://www.communityarts.net , April, 2005. 
Winner, L. Adolescence and Activism: Theatre for Survival. In  J. MacDougall,  S. 
Yoder (Ed.), Contaminating Theatre: Intersections of Theatre, Therapy and 
Public Health. Evanston, Northwestern University Press, 1998.