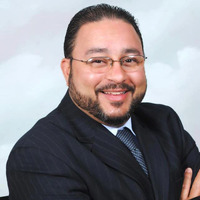 Luis Camacho
Assistant Professor
School for Undergraduate Studies
Office(s):
Academic School:
Business
Academic Department:
Business, International Business, and Marketing
Subjects of Interest
Business
Interdisciplinary Multidisciplinary Studies
Management
Marketing
Professional Responsibilities / Bio
Dr. Camacho is a Visiting Assistant Professor of Business, International Business, and Marketing. He has a Doctorate in Education with a concentration in Instructional Technology and Distance Education, a Master's Degree in Marketing, a Bachelor's Degree in Business Administration with a concentration in Hotel Management, and a Specialization in Textile Industry Management. For more than twenty years, he has worked in the fields of business and education as a professor, researcher, and consultant. He has taught in various countries such as the Dominican Republic, Costa Rica, and Colombia. As a consultant, Dr. Camacho has developed projects for the Japan International Cooperation Agency (JICA), Agencia Espanola de Cooperacion, Proinvest (European Union), Consorzio Nazionale Italiano dell'articolo da regalo, del mobile e del complemento d'arredo, among others. Dr. Camacho's research activity is based on the following topics: effects of ethnocentrism and xenocentrism on consumer purchase intention, productive linkages and global value chains, ethnic markets and ethnic market orientations, corporate citizenship in International Business, emerging markets and international business and international management. Dr. Camacho is former Editor Chair of the South American Region for the Journal of Academy of Business and Emerging Markets. Additionally, he is Editorial Board Member for the International Journal of Applied Management Science (IJAMS), Chair of the Caribbean Region and Conference Proceedings Editor for the Academy of Business and Emerging Markets (ABEM), and Track Chair for Organizational and Human Resources of the MNE/International OB at the 2017, 2018, 2019 and 2020 Academy of International Business SE chapter. Additionally, Dr. Camacho is serving as External Examiner for Ph. D. students in Economics and Management at Northwest University, Mmabatho Area, South Africa. A passionate about multiculturalism and academic inclusion in developing countries and emerging markets, Dr. Camacho has unified social, cultural, and economic facts from diverse countries and business realities, creating a global understanding of the business world, social structures, and education.