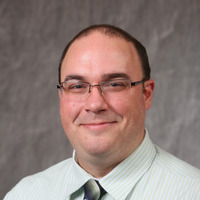 Nathan Whitley-Grassi
Interim Director of Educational and Emerging Technologies
Office(s):
Administrative Division:
Information Technology Services
Office:
Educational and Emerging Technologies
Education
Ph.D in Education from Walden University
M.A. in Biological Anthropology & Ecology, Evolution and Behavior from University at Buffalo - State University of New York
B.S. in Biology from Armstrong Atlantic State
Subjects of Interest
Animal Behavior
Anthropology
Biology
Conservation
Educational Studies
Professional Responsibilities / Bio
Dr. Nathan Whitley-Grassi is the Associate Director of Educational Technologies at SUNY Empire State College's, where he leads a team of Educational Technologists who work with faculty to develop pedagogically sound methods for integrating technology into their teaching and learning. He holds a PhD in education from Walden University and holds graduate degrees in biological anthropology and ecology, evolution and behavior from SUNY University at Buffalo as well as a bachelor's degree in biology from Armstrong State University. 
Whitley-Grassi is a teaches Master of Arts in Learning and Emerging Technologies (MALET) program where he teaches courses on educational assessment, STEM education, instructional design, and advises graduate students at the Empire State College School of Graduate Studies. Whitley-Grassi also teaches courses in education, biological anthropology, primate behavior, conservation, and ecology and evolution topics at the undergraduate level. 
Whitley-Grassi's research interests include increasing access to STEM experiences through innovative technology integration, educational assessment and faculty development.
Publications
Whitley-Grassi, N., Whitley-Grassi, B., Hoppel, S., & Zgliczynski, M., (In press forthcoming 2021) Medical vs. Social Models of Disability: Increasing Inclusion and Participation of Students in Online and Blended Learning in Higher Education. International Perspectives on Supporting and Engaging Online Learners. Blessinger, P., & Hoffman, J.. (Eds.).
Matias, A., Woo, K., & Whitley-Grassi, N. (2018). Expanding Access to Science Field-Based Research Techniques for Online Students through OER. International Journal of Open Educational Resources,1(1). doi:10.18278/ijoer.1.1.7
Matais, A., Whitley-Grassi, N., & Woo, K., (2016) Ecology and Earth Science Virtual Field Experiences OERs: Expanding Access to Field-Based Research Techniques for Students at a Distance. Open Education: International Perspectives in Higher Education. Ble
Sullivan, R., van Putten, C. & Whitley-Grassi, N. (2015). Tools of Engagement Project (TOEP): Discovering and exploring within a supportive professional development community. In S. Carliner, C. Fulford & N. Ostashewski (Eds.), Proceedings of EdMedia: Wor
Sullivan, R., Tysick, C.A., Pilawski, B., Shi, S., van Putten, C., & Whitley-Grassi, N. (2014) Tools of Engagement Project (TOEP): Online Professional Development through Structured Inquiry and a Virtual Community. Inquiry Based Learning for Faculty and I