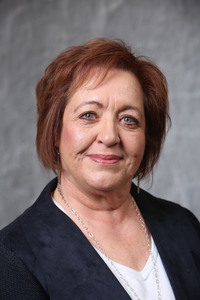 Roselynn Dow
Associate Professor
School for Undergraduate Studies
Office(s):
Academic School:
Business
Academic Department:
Management and Human Resource Management
Education
Ph.D. in Organization Management from Capella University
MBA in Marketing from Syracuse University
MA in English from Syracuse University
Professional Responsibilities / Bio
Dr. Dow is currently a tenured faculty member in the School of Business.  She also serves as Chair of the Department of Management and Human Resource Management.  In the 21 years that she has been at the college, she has taught a variety of business and management courses including Management Principles, Marketing Management, Leadership, Business Ethics, Environmental Ethics, Managing Sustainable Organizations, Entrepreneurship, Strategic Management, Organizational Behavior, and Organizational Development and Change.  Her research interest is work values and retention and has focused on the differences in work values and behavior represented by different generations.  Of particular interest is the role that Millennials have been taking in leadership and how their generation-specific perspective on work-life balance has impacted the workplace.