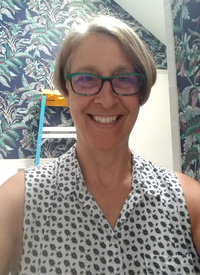 Ruth Silver
Lecturer
School for Undergraduate Studies
Office(s):
Academic School:
Science, Mathematics and Technology
Academic Department:
Natural Sciences
Education
M.A. in Biology from Binghamton University, State University of New York
Ph.D. in Biochemistry from Albert Einstein College of Medicine
Subjects of Interest
Biology
Environmental Science
Human Anatomy
Nutrition
Professional Responsibilities / Bio
Ruth has been a mentor at Empire State College since 1990.  She began her graduate work with a project in molecular biology at Binghamton University.  This was followed by a doctoral dissertation on cell surace proteins and lectins in erythroid cells.  She teaches Human Biology, Human Nutrition and Environmental Science all at the introductory level.  Some examples of advanced biology classes she teaches are Genetics, Cell Biology and Biochemistry.