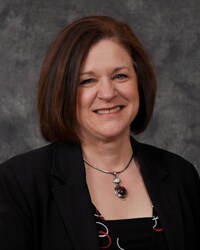 Teresa Smith
Assistant Professor
School of Nursing and Allied Health
Education
M.S. in Nursing from Sage Graduate School
Subjects of Interest
Community & Human Services
Health Administration
Information Systems
Leadership
Nursing
Professional Responsibilities / Bio
Professor Teresa Smith joined the nursing faculty of Empire State College in March 2009.  She earned a Master's Degree in Community Health Nursing from Sage Graduate School (1996), a Bachelor of Science Degree with a major in Nursing from the State University of New York (SUNY) Institute of Technology, Utica/Rome (1982), and a nursing diploma from the Samaritan Hospital School of Nursing in Troy, New York (1980).   
Professor Smith's clinical background is primarily in the hospital setting with a special focus in adult critical care nursing. She has been dedicated to nursing education since 1986, working first as a nurse educator and then as the manager of a Staff Development Department in a community hospital.  In 1998, she became the Director of Education for two hospitals in the Northeast Health network, an integrated care delivery system in the Capital Region of New York.  In this role, Smith had administrative responsibilities for the internal Education and Resources Department, two hospital-based Associate Degree nursing programs, and an LPN Certificate Program.
Much of Professor Smith's career focused on working with students and graduate nurses to design mentoring models and implement programs that assist in role transitions. Often drawing on the model of Patricia Benner's Novice to Expert, Smith has worked to help nurses progress in their academic and professional goals. She is honored to have been recognized for excellence in mentoring by the New York State Nurses Association, District Nine (2013) and the Tau Kappa at Large Chapter of Sigma Theta Tau (2014).  Other areas of interest include performance improvement, nursing informatics, and leadership.
She is a member of Sigma Theta Tau International, the Honor Society of Nursing (Tau Kappa at Large and Delta Pi Chapters), and has served on the Board of Directors of regional nursing organizations. Smith, as the Parish Nurse for Trinity Episcopal in Watervliet, New York, continues to enjoy a focus on community health.