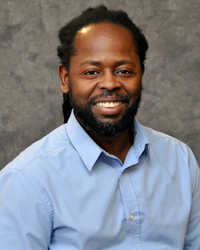 Terry Boddie
Lecturer
School for Undergraduate Studies
Office(s):
Academic School:
Arts and Humanities
Academic Department:
Arts and Media
Education
B.F.A in Photography from New York University
M.F.A. in Combined Media from Hunter College - City University of New York
Professional Responsibilities / Bio
Terry Boddie's faculty responsibilities at SUNY/Empire State College involves mentoring students as well as teaching a broad range of photography and imaging courses including Issues in Contemporary Photography, History of Photography, Black Photographers 1840-Present, Documentary Photography, Photographic Narratives among others. He curates annual exhibitions such as Perspectives and The City, Day and Night at the Hudson Street location that are designed to showcase the work of students in his studio classes. His annual photography field trip through New York City, Dusk to Dawn has become popular with both students and alumni.
In his creative practice Boddie is a photographer and multi-disciplinary artist who explore historical and contemporary aspects of memory, migration and globalization refracted through his experience as a first-generation immigrant from the island of Nevis in the Eastern Caribbean. He experiments with different disciplines in search of a language that transcends our traditional notions of a photograph, blurring the distinctions between photography, drawing and painting. His current academic research and creative work investigates the visual and economic intersection between chattel slavery and the prison industrial complex.
Boddie has exhibited his work in museums and galleries national and internationally, including the Parc La Villette in Paris, Brooklyn Museum, Smithsonian, The Studio Museum in Harlem, The Bronx Museum of the Arts, Philadelphia Museum of Art Museum of the Americas. 
Awards and honors include artist residences at The Studio Museum of Harlem, The Center for Book Arts, Marie Sharpe Walsh Foundation. He's also received artist fellowships from Center for Photography at Woodstock, the New York Foundation for the Arts, the Brodsky Center, the New Jersey State Council on the Arts and a photography grant from the George and Helen Segal Foundation. His work is in the collections of the Philadelphia Museum, The National Museum of African American History and Culture.
Publications
Small Axe 41, What is an Island? Caribbean Studies and the Contemporary Visual Artist, Michelle Stephens, p.19, Reflections, Yale Divinity School, Ray Waddle, Editor, vol.100, no. 1, Spring 2013, About Change in Latin America and the Caribbean, Art Program World Bank p.138, Pictures from Paradise: A Survey of Contemporary Photography by Melanie Archer and Ariel Brown, 2012, p. 142-145, Small Axe 28, Visual Memory in the Caribbean, February 2009, Albany Times Union, Artist's montages explores, by Tim Kane, March 30, 2008, New York Newsday, Caribbean contradictions, by Ariella Budick, September 7, 2007, New York Sun, The Underbelly of the Caribbean, Lance Esplund, August 30, 2007, Small Axe 16, Resonance: The Essence of the Playing Field, by Rocio Aranda-Alvarado, September 2004, pp. 32-42, New York Times (Weekend-Arts & Leisure), Material and Matter, by Holland Cotter, March 9, E36, Nka: Journal and Contemporary African Art, Culture and Memory by Rocio Aranda-Alvarado, No. 13/14, Spring/Summer, p.123, Kunstbeeld, Het Verleden Herleefd: Fotowerken van Terry E. Boddie, by Rob Perree, November 2000, pp. 26-27, NY Arts, "Trajectories" @ Smack Mellon by Deborah Everett, November 2000, p. 69, New York Times (Weekend-Arts & Leisure), Picking Out Distinctive Voices in a Pluralistic Chorus by Holland Cotter, August 18, p. E36, NY Arts Hanne Tierney, Marian Griffiths & Five Myles by Deborah Everett, April 2000, pp. 14-15, New York Times (The City) A Diversity of Media from Black Artists by Andrea Delbanco, January 23, p. CY14