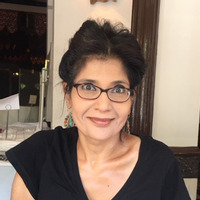 Dianne Ramdeholl
Associate Professor
School for Graduate Studies
Office(s):
Grad Academic Division:
Education
Education
Ed.D. in Adult Education (with a focus on Education for Democratic Social Change/Critical Pedagogy) from National-Louis University
Subjects of Interest
Adult Learning
Adult Literacy
Public Policy
Race and Ethnic Studies
Sociology
Professional Responsibilities / Bio
Dianne Ramdeholl is an Associate Professor of Adult Education at SUNY Empire State College in the School for Graduate Studies. She also teaches courses in the Social and Public Policy program. Her focus on on social and racial justice and social activism/social movement learning. Before joining SUNY, she was a grassroots adult literacy practitioner for over twenty years, working with community-based organizations. Committed to adult education for democratic social change and justice-centred practice and research, Dianne's work has been grounded in developing educational projects with marginalized populations. Her current research and writing focus on social and racial justice in adult and higher education. Recently, she has written about race and racism in higher education and the struggles of racialized faculty and students within that context.
Publications
Select Publications: Ramdeholl, D. & Jeremic, R. (2020). Teaching for a different world through activism in/and struggle. in T. Rocco, C. Smith, R. Mizzi, L. Merriweather, J. Hawley. (Eds). Handbook of adult and continuing education. Sterling, VA: Stylus
Ramdeholl, D. (Summer, 2020). "We Too Sing America: The erasure and faculty of color in academia," Dialogues in Social Justice. University of North Carolina, Charlotte. DSJ 4(3)
Ramdeholl, D., Gordon, J.; Merriweather, L., Salamanca-Cardoza M. & Choudry, A. (2020). Learning in and through social movements. Adult Education Research Conference, Victoria British Columbia. (Cancelled due to COVID 19 but papers were still published in proceedings)
Ramdeholl, D. (Winter, 2019). Whose social justice? Social movements for whom? In D. Ramdeholl (Ed.), New Directions for Adult & Continuing Education, Understanding social justice: Learning and movements in adult education. No. 164. pp. 135-144. https://doi.org/10.1002/ace.20362
Ramdeholl, D. & Jones, J. (2018) Helping students uncover positionality. In S. Brookfield (Ed). Teaching race: How to help students unmask and challenge racism. San Francsco, CA: Jossey Bass