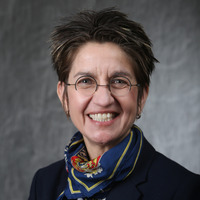 Julie Gedro
Dean of the School of Business
School for Undergraduate Studies
Office(s):
Academic School:
Business
Academic Department:
Business, International Business, and Marketing
Education
B.A. in English, Economics from College of William and Mary
MBA in Management Information Systems from Kennesaw State University
Ed.D. in Adult Education, Human Resource Development from University of Georgia
Professional Responsibilities / Bio
Dr. Gedro holds a B.A. in Economics and English from the College of William and Mary; an M.B.A in Information Systems from Kennesaw State University; and a Doctorate in Adult Education from the University of Georgia. Dr. Gedro served in positions of increasing responsibility in human resource management and development in the financial software and telecommunications sectors before becoming an academic. Dr. Gedro is the author of two books, 25 book chapters and journal articles, and serves as the Series Editor for Palgrave Macmillan's Human Resource Development book series, Explorations in Workplace Stigma. She serves as President of the Academy of Human Resource Development.  
Publications
Series Editor, Palgrave Explorations in Workplace Stigma This series is a call to action for organizations to not only recognize but include, support, and value employees of all walks of life, regardless of the social stigmas that might create material, affective, or psychological divisions between them and their ostensibly "normal" counterparts. It fills the gap in scholarship surrounding the difficult issues employees or job seekers might face based on their demographics, life events, or other factors. The series explores issues such as mental illness and wellness; and alcohol and drug addiction and recovery. It explores the complex and often times nuanced issues that face sexual minorities, or those who are formerly incarcerated, or military veterans in the context of employment or career decision making. Through rigorous research and contributions from the foremost scholars in human resources, books in the series will provide an in-depth exploration of each population and challenge HR scholars and practitioners to effectively consider and embrace these explorations. and consider expanding their own awareness. The series speaks on behalf of anyone who has ever been affected–directly or indirectly–by discrimination or exclusion in the context of work, and promotes a positive, productive, and purposeful working environment for employees at all levels.
Gedro, J. (2017). Identity, Meaning, and Subjectivity in Career Development Evolving Perspectives in Human Resources This book closely interrogates the construct of identity and the role it plays in career development. It provides guidance for HRD practitioners and researchers who create career development programs through a typology of different categories of identity, such as demographics, life events, and career histories. The book presents a framework for considering and addressing career development from a critically reflective perspective of identity as a result of choice, chance, and adaptation. It offers a comprehensive understanding and awareness of tacit, nuanced, and stigmatized issues that were once shameful but have now become more socially acceptable. As a result, HRD practitioners can design programs and resources that have a richness and relevance that might heretofore be lacking. The book also offers guidance for individuals as they take charge of their own identities and career trajectories in an increasingly complex and unpredictable working environment.
Gedro, J. (2014). LIPSTICK OR GOLF CLUBS: What Lesbian Leaders Understand About Success and What You Can Learn from Them Being a lesbian is no longer a handicap in corporate and organizational America. It can be an asset, and a source of strength. Lipstick or Golf Clubs is the first book ever focused exclusively on lesbians and leadership. Julie Gedro is a former human resource management and development professional, and her experiences traversing organizational America as an out lesbian interweave with her research to explain successful lesbian leaders learn to succeed; how their lesbianism is an advantage; what their leadership styles are; and the advice they would give to young lesbians who have leadership aspirations.